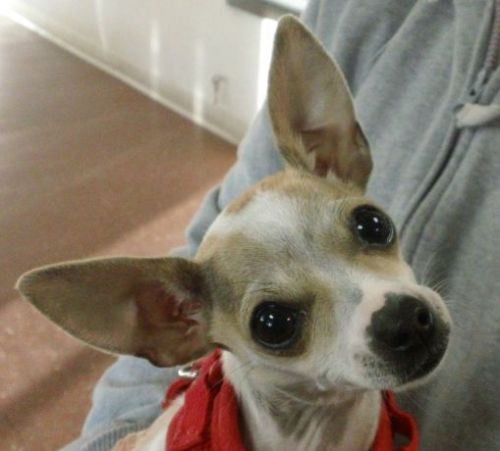 Pippy is by far the cutest little Chihuahua on four legs…that is when she's ON four legs. Usually she likes to be in your lap! Pippy was afraid in the shelter, so when we were asked by our friends at the shelter if we had room for Pippy, our answer was yes! She was only about 18 weeks at the end of November, so this little pup is still learning puppy social skills. Sometimes the "big world" is scary. How does that look to Pippy? She may need a little time to get used to her surroundings. She is good with responsible children, good with other small dogs, and LOVES to play with stuffed toys. She's only about 4 pounds, but she can go through a stuffed toy like a little shark! It's not often that we have a puppy who we think will do well with adopters with a stringent work schedule, but Pippy may be an exception. She is ok to be left alone for a while at a time if you're okay with leaving a piddle pad out for her. She's doing great with her house training, too. If you're interested in meeting, fostering, or adopting Pippy, please let us know.
Powered by Petfinder at www.petfinder.com
Contact Seller
Please Report Responsibly:
Advertiser Profile
Email Me
El Camino Real
Redwood City, CA, 94061
More from A Leg Up Rescue
Need help?
You're not alone. Take a look at our Help section, or don't hesitate to ask us: